02.08.2008

Media guide "Roma in Bulgaria"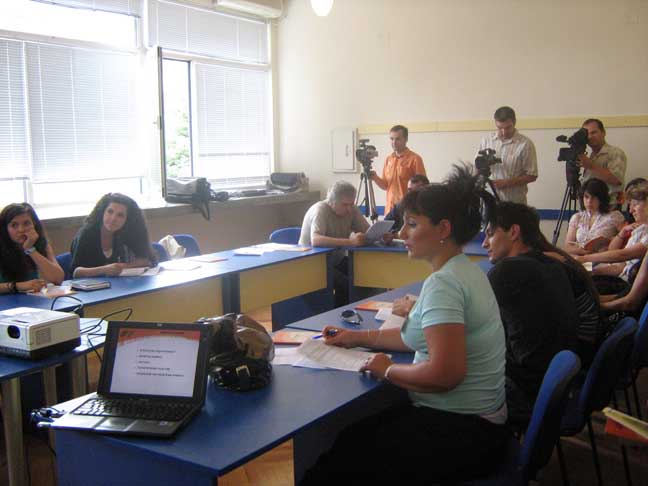 "Roma in Bulgaria – information guide" is the last publication of Roma Program of the Open Society Institute – Sofia. The guide is of main use for journalists. It aims at providing correct and proven information about Roma and at establishing good media image of Roma. Aleksey Pampovov PhD, Ilko Yordanov, Teodora Krumova and Deyan Kolev are the authors who prepared the guide. Maria Metodieva (Director of Roma Program of the Open Society Institute – Sofia) is team leader.Ass.Prof. Tatiana Braykova-Tomova is external reader.
The guide provides information about the history, ethnic identity and socio-demographic structure of Roma in Bulgaria (number, educational, living, health and economic situation) as well as about the media choice of Roma, political participation and attitudes towards Roma. Special attention is paid to the policy for Roma integration: main documents in this direction, institutions engaged with them and problems that disturb their implementation. List with contact information of Roma NGOs, another list with contact information of institutions that deals with integration and special chapter about Roma calendar feasts are added as appendices. The guide is based on information from survey and investigations of World bank, UNDP, OSI, Center Amalipe and leading sociology agencies. Information from the National Statistic Institute, ministries and state agencies is also used. In addition, the guide provides short analysis of the authors on the problems of Roma integration.
Through facts and figures the guide demolishes some of the most shared myths concerning Roma: about the "explosion" of Roma birth-rate and early births, about the so-called "Roma crime-rate" and so on. The authors reveal the groundless of the stereotypes towards Roma and supply the journalists with means to "provoke" these stereotypes through proven information and correct analysis.
The guide could be used not only by journalists but also by public officials, teachers, NGO activists as well as by everyone who is interested in one of the biggest minorities in Bulgaria. It is available in printed version as well as on the web-pages of Open Society Institute – Sofia and Center "Amalipe". Soon it will be translated in English.
The guide could be downloaded in Bulgarian here
Presentation of Media guide "Roma in Bulgaria"
"The sustainable negative attitudes towards Roma community are one of the main obstacles that prevent the successful implementation of Roma integration policy. Often they are not due to bad will but due to ignorance and lack of knowledge. That is why providing reliable information about Roma is of key importance and media have important role to play in this direction." Speaking this Mr. George Stoychev, executive director of Open Society Institute – Sofia welcomed the journalists on the presentation of Media guide "Roma in Bulgaria" that took place on July 30 in Sofia.

The Guide authors – Aleksey Pamporov, Ilko Yordanov and Deyan Kolev presented facts and conclusions about the number of Roma and their living, educational, health and economic conditions. "The high birth-rate among Roma is myth nowadays. – pointed Aleksey Pamporov – The number of kids poer a Roma family is 2,7 that is significant decrease compared to the situation 10 or 20 years ago. The early births have decreased 4 times compared to 1989: the impression that early births are numerous is because today we have media coverage of this problem unlike the period before 1989 when it was forbidden for media to reflect it." Answering a journalist question Deyan Kolev explained that probably the number of school drop-outs among Roma will increase significantly from the next school year due to abolishment of more than 300 schools and the lack of work with Roma parents to convince them that education of their children in focal-point schools (i.e. schools in another village or town) is important. "It is obvious that neither social nor administrative measures alone could solve the problem with dropping-out of school. Unfortunately the vision that special amounts should be dedicated for work with Roma parents is not shared by our officials now." – pointed Deyan Kolev. Ilko Yordanov presented disturbing facts about the high mortality-rate and the bad health situation of Roma insisting that the health of every Bulgarian citizen is national value.
Presentations of the Media guide were organized also in Veliko Turnovo on July 28 and in Bourgas on July 29. Dozens of journalists attended them.