02.10.2017

Amalipe representatives participated in a working visit in Bucharest within RARE Project
On 28th and 29th of September 2017, representatives of Amalipe Center participated in a good practice visit in Bucharest, Romania, organized by "Impreuna" Romanian Community Development Agency, within the project "RARE - Changing discourses, changing practices: the Roma as Human resource".
The first day of the visit was held at the Roma Cultural Museum in Bucharest, the only one of its kind in Romania. Mr. Negoi Ioan Valentine, PhD fellow of Romani History, took a walk with all the participants around the museum and presented the exhibits.
Ciprian Necula, Director of "Romano Butiq" (TBC), presented a brief information about the establishment and the implementation of the Romano ButiQ project, which aims at creating positive employment practices. The Roma Boutique project focuses mainly on the low employment rate among Roma people in Romania. A key activity of the project is to stimulate economic activity among traditional Roma craftsmen.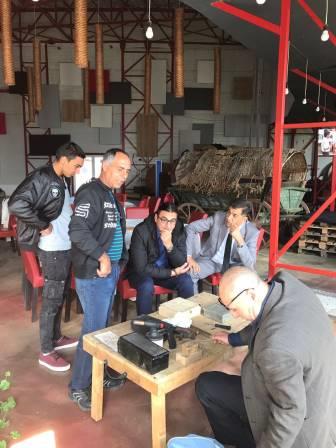 The project also seeks to overcome the negative stereotypical views held by Romanian society regarding the Roma. The project also tries to help Roma craftspeople adapt to the needs and requirements of the modern market.
A local Roma craftsman made beautiful copper earrings in front of the participants.
The second day of the working visit was held at the National Roma Agency, Bucharest. Dr. Daniel Radulescu, president of the Agency, presented the main goals and activities of the agency, as well as the problems they face. The agency is set up by the Romanian government and aims to improve the social and economic situation of the Roma minority in Romania. Its main activity is monitoring the implementation of the national Roma strategy, managing and spending budget funds under programs to support the development of the Roma community, as well as developing social policies, strategies and programs for the Roma minority.