27.10.2017

EU Commissioner Jourova discussed Roma integration with non-governmental organizations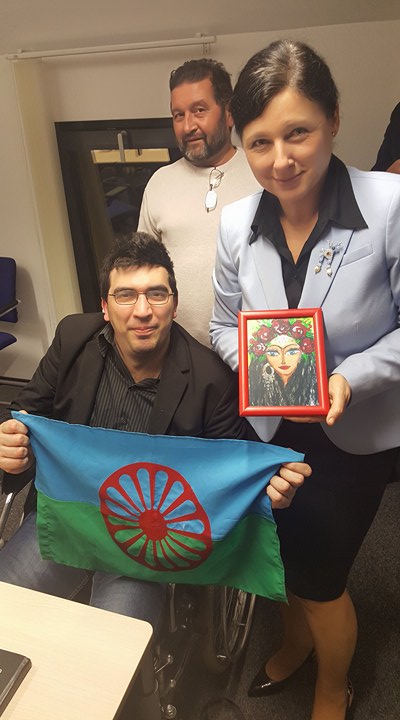 The European Commissioner for Justice, Consumers and Gender Equality Vera Jourova met civil society organizations working on judicial reform, human rights and Roma integration. The meeting was held on 25 October at the House of Europe in Sofia on the initiative of Commissioner Yourova. The civil sector was presented by representatives of the Bulgarian Helsinki Committee, Open Society Institute, Institute for Legal Initiatives, Union of Judges and Amalipe Center.
For me, this meeting is extremely important, as I would like to hear the views of the active civil society organizations on two topics that are issues to be discussed with Bulgarian institutions - judicial reform and Roma integration, said in her welcoming speech Commissioner Jourova. She also stressed her personal commitment to these issues, as well as to the cause of gender equality and non-discrimination.
Participants presented their views and suggestions for change in genuine dialogue. Amalipe Center chairman Deyan Kolev welcomed the European Commission's increasing commitment in recent years: from the point of view that Roma integration is only a national priority (the main thesis at the First European Roma Summit in September 2007) to the idea of "shared responsibility". In his speech about the implementation of the national Roma strategy, Kolev used Radoy Ralin's phrase "in formal terms, everything is normal, in normal terms, everything is formal": the strategy is a good text approved by the National Assembly (which was one of the main demands of the Roma organizations ), but the actual performance is close to zero. He stressed that the National Council for Cooperation on Ethnic and Integration Issues has not been functioning for years and the active Roma organizations have left it in 2013 with reform demands. But after controversial appointment of Valery Simeonov as chair of the Council, any hope of reform has disappeared and this structure has to be closed down. Kolev urged the European Commission to stop contacting and funding the Council as an institution cooperating with the civil sector and recalled that in June the Roma organizations had collected over 15,000 signatures against the appointment of V. Simeonov as chair of the Council.
То a question put by Commissioner Jourova about how the situation of Roma has changed in recent months, BHC President Krasimir Kanev stressed that there is a serious deterioration of the issue of evictions / destruction of housing in Roma neighborhoods. The BHC has helped dozens of Roma to receive temporary "relief" through appeals to the European Court of Human Rights: there has been a boom in recent months as evacuations have increased sharply. Deyan Kolev added that there has been a serious deterioration in the healthcare sector after having increased years with paid health insurance with two more years: a problem affecting over a million Bulgarian citizens of all ethnicities. The worsening of anti-Roma rhetoric and action (anti-gypsysm) is dramatic. Education is the only improved area, since the full range of pre-school and school education is one of the main priorities of the government for the first time, and there is a chance to achieve real results. Yet deepening segregation reamins a problem, explained Krasimir Kanev and Deyan Kolev and gave as an example the case in Samokov, where the local government united two segregated schools and turned them into a unified school, which trains students till 10th grade, and Ministry of education supported this and violated the law by establishing enrollment, despite the appeal in Supreme court.
Georgi Angelov of the Open Society Institute recalled the economic benefits of Roma integration. He stressed that unemployment is currently kept to a minimum and that businesses are looking for employees, which is a chance more Roma people to be hired. However, only better qualifications can ensure high incomes, and it is therefore important for Roma children to attend schools, providing quality education. He also pointed out that there are hundreds of examples of well-educated Roma who work: Roma medical students who are already practicing. Commissioner Jourova asked to learn more about them and to promote these examples to the media and the public.
At the end of the meeting Deyan Kolev gave Ms Jourova the Roma flag and explained its symbolism. Commissioner Yourova assured him to put it in her office and show it to her colleagues.