13.12.2017

Round table for pre-school education took place in Montana

H. Е. Denis Knobel, Deputy Ministers of Education Denitsa Sacheva and Social policy Zornitsa Rusinova, Mayor of Montana Zlatko Zhivkov and representatives of non-governmental organizations from Montana and the country participated in a conference on access of Roma children to pre-school education held on 5th of December in the "Prolet" Kindergarten, located in the Roma neighborhood "Kosharnik" in Montana. The event was organized by the Roma Integration Ambassadors Group as an accompanying event at the opening of the new facility of the Kindergarten. Moderator of the round table was Deyan Kolev, Chair of Amalipe Center.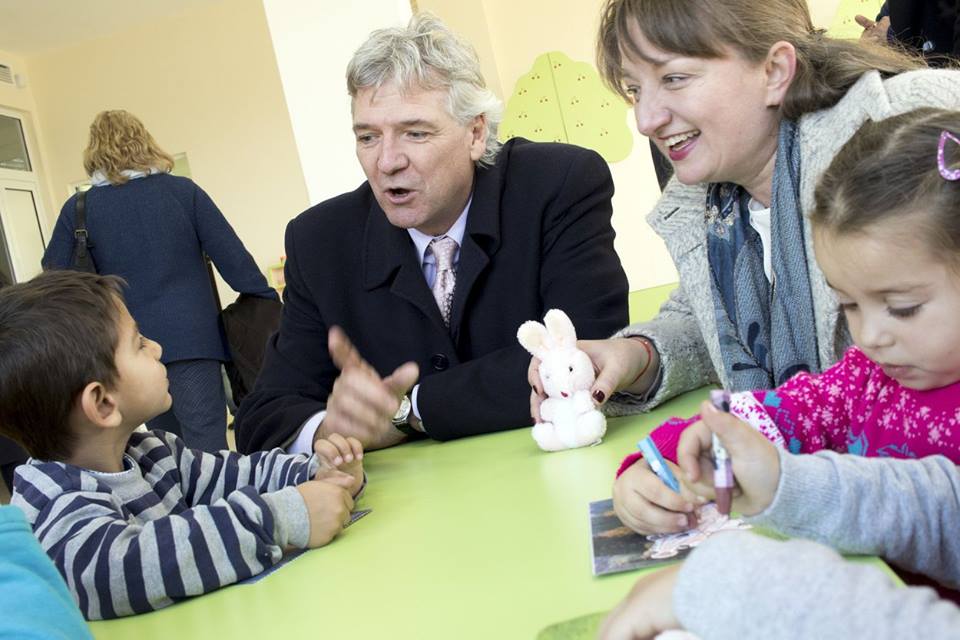 In Montana we have over 60 Roma with higher education and the educational level of the Roma community is improving, assured Tashko Tanov, chairman of the Naangle Foundation. The problem is that they do not find suitable employment and, at best, become mediators, but have the ability to educate teachers and engineers. Spaska Petrova from New Road Association also emphasized the fact that Roma in Northwestern Bulgaria are the most educated but poverty and discrimination are serious obstacles to their integration. The abolition of kindergarten fees is one of the necessary measures for a higher range of Roma children in pre-school education.
Doryana Bassamakova (Trust for Social Achievement) and Gancho Iliev (World Without Borders Association) presented the "Ready for School" initiative, which covered the fees of some children in 240 kindergartens. Nearly half of the unscoped Roma children have started attending kindergarten afterwards. The other half is not covered, which indicates the need for further work with parents.
MES supports the idea of abolishing kindergarten fees for 5- and 6-year-olds (mandatory pre-school age) and we plan to propose this through a 2019 budget, said Deputy Minister Sacheva in response. She added that education is a government priority but it should be a top priority for society as a whole, because prosperity is possible only through education. Early childhood coverage in kindergartens is key for Roma children to attending school afterwards, being able to find realization in life, to work and become decent citizens.
Deputy Minister Rusinova pointed out that the model of the "ZOV" Program - Health and Education for All, which is also applied in Montana, has proven its success and can be supported through OP "Human Resources Development". She added that a forum for the future of the European Social Fund will be organized within the Bulgarian Presidency of the EU Council and accepts the proposal of Amalipe and other NGOs to include the Roma topic in it.
The Round Table was an event attending the opening of the new Kindergarten facility. More than 100 children from Kosharnik neighbourhood in Montana will visit it since December 2017.
The garden was built under the project of the Municipality of Montana under the Program of Health and Education for All, financed by the Bulgarian-Swiss cooperation program. More about the event you can see at: https://www.facebook.com/ZOVProgramme/videos/1769981236640176/