05.04.2018

Sunny Barcelona gathered Roma women from whole Europe for the Second International Roma Women Congress

The Spanish foundation "Drom Kotar" organized the Second International Roma Women Congress in the Pearl of the Mediterranean Barcelona ( the first Congress was held in 2010)

In the end of March the hosts of the event welcomed Roma women from 15 countries in Europe. Bulgaria was represented by a group of women, sent by Center Amalipe. The six participants – young girls and women, working on different programs of Center Amalip, with main focus on empowering Roma women and early marriage prevention.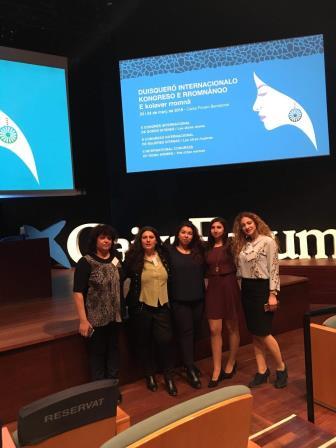 The Congress started with spectacular opening ceremony in the City hall of Barcelona and was attended by the Mayor – Mrs. Ada Kolau. In three days the women had a chance to hear and share good practices in the different panels of the Congress. The main goal was to motivate all women to fight the outdated traditions and to work for integration and higher education of their families and for the whole Roma communities, and keeping their Roma identity in the process. Both women with higher education and on power positions, as well as women fighting for their education, shared their stories. 15 different languages were spoken, but the one that connected all was Romani.
The Bulgarian group had its time for presentation. Violeta Staneva, active parent from the Parents club in Primary School "P. Volov", Madara, Shumen Province, shared her work in school. The innovation, which Center Amalipe is implementing with the parents, teaching classes in Programme "Your class", was presented by Violeta with a presentation "Small creative initiatives, that make the educational system in Bulgaria more interesting, familiar and useful – for children, parents and teachers.". This good practice was well received and was recognized as something that the other participants wanted to implement immediately.
In the end of the Congress the main goal was reached – every woman discovered "the thing , that she will implement in her life to make it better. The hosts promised that there will be third International congress and they start with the organization immediately.
More information about the II Roma Women Congress see here.