07.05.2019

Representative of Amalipe Center attends the official ceremony of welcoming His Holiness Pope Francis
Ivan Todorov from Amalipe Center attended the official ceremony of welcoming His Holiness Pope Francis in Sofia, at the invitation of the President of the Republic of Bulgaria.
The President Rumen Radev welcomed Pope Francis to the Presidency, where was the first stop of the Holy Father in Sofia. They both listened to the Bulgarian and Vatican hymns, then joined the Dondukov 2 building for a close meeting.
After a brief conversation with President Radev at 11.30, the pope met with politicians and representatives of the diplomatic corps at Atanas Burov square. A small number of representatives of civil society took part in the meeting, such as NNC and Amalipe Center.
"I am delighted to be in Bulgaria - a meeting place for many cultures and civilizations, a bridge between Eastern and Southern Europe, an open door to the Middle East. This is a land of ancient Christian roots that nourishes the calling,that favors the meeting both in the region and in the international community, "said Pope Francis in his message, along with the message of President Rumen Radev to the representatives of the Bulgarian authorities, the civil society and the diplomatic corps in Bulgaria.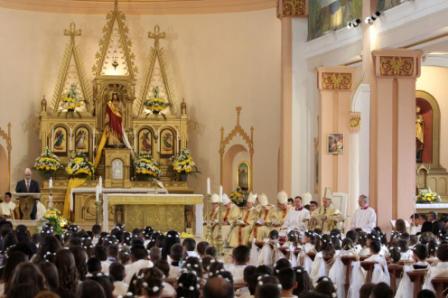 The Pope congratulated the audience with "Resurrection of Christ" in Bulgarian language. "Here, diversity, respecting peculiarities, is seen as an opportunity and wealth, not a cause of conflict," said the Holy Father.
The visit of His Holiness continued in the town of Rakovski where on the great Christian holiday "St. George's Day", Pope Francis served the Holy Liturgy for the First Communion of children in the church "Presveto Sarce Isusovo".
Later on the same day, the head of the Roman Catholic Church prayed to the entire world from the Nezavisimost square in Sofia and called for an active and fortified peace against all forms of selfishness and indifference that make us put the small interests of some over the inviolable dignity of man. The event involved the various religions in Bulgaria, and was the closing event of the apostolic journey of the Holy Father in Bulgaria.
God bless Bulgaria, keep it peaceful and hospitable and make it prosperous and happy!